Oxford 250: Austin Theriault returning, teaming up with Travis Mills Foundation
August 22, 2023
Fort Kent native is getting back in the driver's seat and will try raise money for wounded veterans.
BY WIL KRAMLICH SUN JOURNAL
A decade ago, Austin Theriault was the young stud racer trying to make it big in stock cars and hoping to add a win in the Oxford 250 along the way.
Austin Theriault and sponsor Bar Harbor Bank & Trust are turning Theriault's attempted Oxford 250 run into a fundraiser for the Travis Mills Foundation.
Theriault, still only 29 years old, now spends his days helping guide and mold other hopeful, young racers and representing State House District 1 in the state legislature. His step-back from the driver's seat, however, will be put on a brief hold this weekend when he makes another try at a 250 title in the 50th running of the big race at Oxford Plains Speedway.
The Fort Kent native said this being a milestone edition of the Oxford 250 played a role in his decision to make another attempt.
"That race has got a lot of history, and people with much bigger names than I have in racing have won that race and have gone on to sort of punch their tickets into the record books," Theriault said. "So if we could somehow have a good run there next weekend, you know, it'll be special for me because, once again, it's a race I've always wanted to win."
He's come close before. There were back-to-back third-place finishes in 2011 and 2012, to Kyle Busch and Joey Polewarczyk Jr., respectively. He then placed fourth in 2013 and was runner-up in 2014 as Travis Benjamin won consecutive crown-jewel trophies.
RELATED
What followed was a blossoming national racing career that included rides in NASCAR's Trucks, Xfinity and Cup series and the 2017 ARCA championship before those opportunities disappeared and Theriault switched his focus the past few years to helping young drivers. More recent Oxford 250 attempts weren't as successful as his string of four straight top-four finishes.
Theriault's comeback isn't only about chasing after his own dreams, though. He said he "kind of hitched the horses together" with the Travis Mills Foundation and Bar Harbor Bank & Trust to turn Theriault's checkered-flag pursuit into a fundraising campaign for the foundation.
Austin Theriault, left, is teaming up with Travis Mills, right, and his foundation to turn Theriault's attempted run in the Oxford 250 into a fundraiser for wounded veterans. Photo courtesy of AT Enterprise
"I've worked with Travis before in the past, and raised some money for the organization, and I feel like we can do something even more so this time around because the race is in Maine and we have a lot of people that are supportive of the efforts already and want to financially support our fundraiser for Travis," Theriault said. "So, for me, it was a no-brainer to basically, I would say, come out of retirement, in short, and put the helmet back on, and the firesuit, in front of a home crowd, you know, of people that I've probably raced in front of before when I was younger, much younger, and give the Oxford 250 another attempt at capturing the trophy.
"I've got probably thousands of laps at the track from earlier days of Late Model racing, so I'm very confident and pretty comfortable there, and confident that the few years off I've taken from racing won't be much of a challenge, in terms of getting back up to speed."
Theriault has spent much of the summer working toward this weekend. First was partnering with Vermont-based Ming Racing to drive that team's No. 45 car.
"It's a family team, which is also something I like," Theriault said. "You know, a lot of these people come to do one-time events and they come from down South, and they've got these million-dollar operations. But we're coming into this, you know, as sort of a family operation."
Bar Harbor Bank & Trust came on board as the major sponsor for the car, and the bank's logo will feature prominently on the hood of the car, along with the logo for the Travis Mills Foundation.
"Realistically, if it wasn't for them sponsoring the race, we wouldn't be able to do any of this, and none of this money that we're talking about would have come to fruition for Travis," Theriault said.
The fundraising goal is to raise up to $50,000 for the foundation, Theriault said, depending on where he finishes in the race. The money will go toward the Travis Mills Foundation, which runs a retreat in Mount Vernon for wounded veterans and their families.
RELATED
"It takes money to get people to the retreat and treat them, house them and offer all of these programs that they offer," Theriault said. "So, to have a small part and play a small part in, you know, making sure that they can continue to provide these services and these awesome experiences and support for the families is really special to me."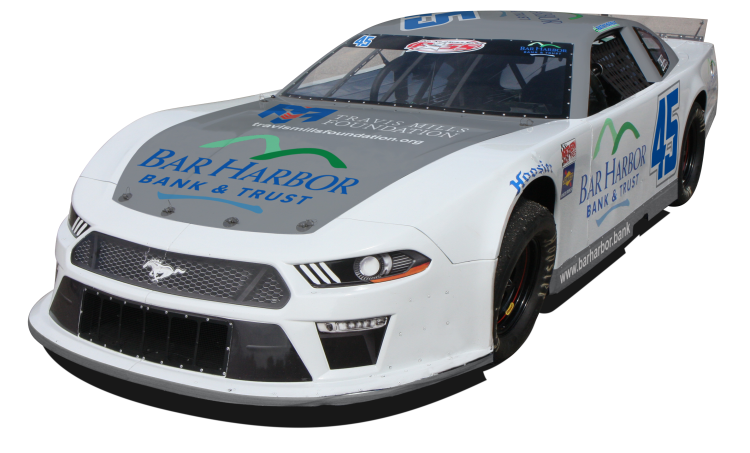 Austin Theriault's Ming Racing No. 45 Super Late Model race car will feature Travis Mills Foundation and Bar Harbor Bank & Trust on the hood for Oxford 250 weekend. Photo courtesy of AT Enterprise
Theriault has already knocked off some of the rust that developed during his time away from driving. He competed in an Oxford Plains Speedway weekly Super Late Model race on July 30, and placed 10th out of 27 competitors.
"The race that I ran a couple weeks ago, you know, if things go similar to how they went there, I feel like we're gonna have a good amount of speed and we're going to be competitive, because I felt like we were really close, as far as what I want to feel in the car, and sort of the lap times we were able to run," he said.
The next time Theriault plans to be in the car on the track is Friday, when practices start for the Super Late Model cars. And while some drivers elect to get as much time and as many laps as they can in the run-up to Sunday's feature, Theriault is choosing to take a more measured approach.
"Well, there's different thought processes. A lot of people go and test before. We decided not to, because I feel like the track changes a lot during the weekend," he said. "So we're going to have plenty of time on Friday and Saturday to test, to make changes to the car.
"Sunday is normally going to be a different animal — the track-changing. So we surely don't want to waste our time and our tires and the equipment, just putting laps and laps that are not going to be helpful for us. So we'll run what we need to for practice during the weekend, but certainly not going to run more than what would be beneficial."
That's the same kind of work-smarter-not-harder way of thinking that Theriault has been trying to instill in other drivers ever since he decided to step out of the car in recent years. He's now ventured into a role in driver management and development, working alongside former NASCAR Truck champion Ron Hornaday Jr. and providing guidance for racers like Xfinity Series competitor Howie DiSavino III.
"To be honest, I get more out of watching these young drivers be successful than I ever did when I was holding a checkered flag at the end of the race," Theriault said. "There's different emotion to it, you know? It's really special to see young men and women being successful at different levels of the sport.
"You know, a lot of them are either starting out or they're trying to progress through the ranks. And it's special to be able to give back some of what I've learned and also educate them about some of the mistakes that I made along the way, and, you know, hoping that they also don't make those same mistakes and they can avoid wasting time and resources and missed opportunities along the way."
Theriault won a seat in the Maine State House of Representatives in 2022. Between that and his racing management and development work, he said he finds himself busy enough to not even think about getting back into racing competitively.
But this weekend Theriault will be trying to rekindle some magic from those close calls a decade ago while trying to help out a cause that is close to his heart.